Just cleaning up a few things on the plate today.
First of all there will be a meeting at the East James Gallery/Visitor Center concerning art work Saturday August 2nd at 9:00 (where did July go???). All interested should attend.
Second - I keep forgetting to bring a Thank You letter from home from the Columbus Auditorium Corporation for helping make the City Council understand why the Auditorium is so important. And now that that is on your minds let's not forget just how powerful you guys are (in case you are needed again).
Thirdly - toads -
WHAT IS UP WITH TOADS!!
I was mowing the lawn yesterday and I had to keep stopping for toads. Lime green ones, jet black ones, bumpy brown ones and bigger bumpy brown ones. I bet I counted over 20 yesterday.
Toads and frogs are actually the same creature but toads and frogs differ in appearance. A distinction is often made between frogs and toads by their appearance, prompted by the
convergent adaptation
among so-called toads to dry environments.
Do you know what you call a group of toads?
A KNOT of toads.
Do you know what you call a group of frogs?
An ARMY of frogs.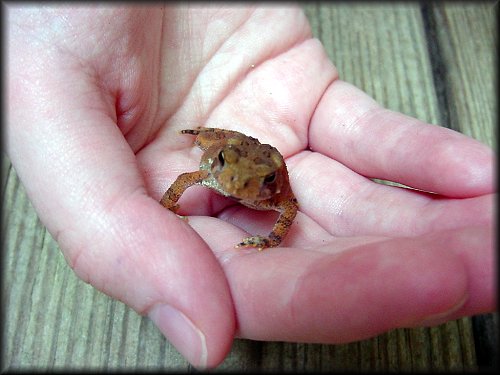 I think I have a knot of toads in my yard which brings be to the subject of beer.
That's exactly right - I'm racking the Scorched Earth Brown Ale from the Primary fermentation carboy into the secondary (clearing) carboy in preparation to bottling next weekend. Then two weeks of bottle aging and we're good to go. The readings are showing an alcohol content of about 4.5%.
This clears a carboy for the next beer in the pipeline. An American Amber. The trick with American Amber (like Kurth Amber) is having the right type of Carmel-type malts and late hopping. Moving the hops to later in the boil will increase the hop flavor and aroma and at the same time keep the bitterness in check.
So we have
Scorched Earth Brown Ale
Lazy Porter
Toads TAle - American Amber
Then coming up in the brew pipeline is a
DOUBLE CHOCOLATE STOUT
! I've read so many good reviews of this recipe that I must try it.
Also in the design phase is a Nutbrown Maple ale. DJ says how are you going to drink all that beer. I have been thinking that also but out of the two cases per batch one case will be
drunkin
by others which leaves four sixpacks per batch.
If anyone has any special request I'm all ears!
Grinder's Island Brewery
had an upgrade this weekend with a new refrigerator which will really help out with the crucial "cold break" after the boil. Having very very cold water is really going to help quality.
OH - Growlers - don't use them for storing beer unless you want to create bottle bombs! Seems they are not made to store high carbonation liquids for long periods of time and are poor for bottle aging. Thanks - they would have been sweet!
If you guys have any clean-ish beer bottles I could sure use them. They cost $4.50 per six pack empty! Seems a shame to spend so much on EMPTY beer bottles. No twist offs!
==========================================
Moving on.
efudd
in Oshkosh sent this to me - I tried to hand it off to Mista Professaa but he would not touch the subject.
MANURE!!
In the 16th and 17th centuries, everything had to be transported by ship and it was also before commercial fertilizer's invention, so large shipments of manure were common.
It was shipped dry, because in dry form it weighed a lot less than when wet, but once water (at sea) hit it, it not only became heavier, but the process of fermentation began again, of which a by product is methane gas. As the stuff was stored below decks in bundles you can see what could (and did) happen.
Methane began to build up below decks and the first time some one came below at night with a lantern, BOOOOM!
Several ships were destroyed in this manner before it was determined just what was happening. After that, the bundles of manure were always stamped with the term 'Ship High In Transit' on them, which meant for the sailors to stow it high enough off the lower decks so that any water that came into the hold would not touch this volatile cargo and start the production of methane.
Thus evolved the term ' S.H.I.T ' , (

S

hip

H

igh

I

n
T
ransport) which has come down through the centuries and is in use to this very day.
==================================
Brewers - COOL - I guess if you sweep a team on the road they have to give you a player! I love that rule.
After sweeping the Giants yesterday, Ray Durham, who was sitting on the Giants bench was told he now plays for the Brewers and was on the Brewer plane heading to St. Louis for the very very very important four game series.
He gives the Brewers an extra left handed bat and will be insurance over Weeks. Plus it would be a pretty good platoon with Durham vs. Righties.
Work work work.
Later
Rod