There is nothing more beautiful then a drive through Nebraska in the springtime. BUT if that is where the Badgers are going to play Friday night, so be it.
Badgers are 19.5 point favorites!
I just heard there is a bet you can make, 20 to 1 that Kentucky will
never
trailed at any point in the NCAA tournament.
To win National Championship
Kentucky 6/5 (bet $5 to have $11 returned to you)
Arizona 15/2
Wisconsin 17/2 (bet $2 to have $19 returned to you)
Coastal Carolina 1000/1

While I'm on the subject - politics
Clinton 13 to 10
Jeb 4/1
Walker 10/1
******************************
Exciting things happening in Columbus this summer.
My gut feeling this could work into something even bigger with antique cars frin The Badger Motor Car Company joining the fray and maybe we can get some carriages from the Columbus Carriage Works. Bringing people downtown baby!
And don't forget this coming weekend.
City of Columbus Office of Economic Development and the Community Development Authority (CDA) are hosting a special program on Tuesday, March 24th from 8:00 to 10:00 a.m. at the Columbus Community Center.
Come on down for the interactive discussion.
****************************
We had a CSS Taskforce meeting Friday to go over plans for the James Street Reconstruction. Sadly better estimates came in and there were some changes on what we could afford. We are not into smaller details yet like bike racks and so forth but bigger ticket items.
We're still in the beginning stages but the colored corner stamped sidewalks were taken out of the plans for various reason (actually about 40,000 reasons) but we're still going to have colored crosswalks up and down the corridor and new street lamps. Less lamps and taller. To be honest I'm not super happy with the new lamps but if we add trees there is a problem with lighting and just a lot of clutter and the same height so you have to give a little to gain a little.
While the lamps we have are a main feature downtown they will not be in the new a major feature now with more focus on the buildings while softening the hard exteriors with urban trees. There was just to much stuff happening at the same level. Still planning on a major structure on Dickason BLVD across from the stature, where the 15 minute parking is at the moment. Don't worry, we're adding a few parking spaces to cover those losses. We are also adding electrical with a thank you to Aldermen Thom for that great idea. Events with electric were a problem on the blvd.
OH - back to street lights! Christmas lights were mentioned. Each new energy efficient light pole (but it's not like we are saving money-oddly) will have electric outlets which means we can upgrade our Christmas lights. I think we need a Christmas light committee. If you drove through Waunakee who went through what Columbus will go through in 2017 their Christmas lights were AWESOME!
It's something I had not considered. If done right Columbus will be a stand out community during the holiday season.
********************************
I commented on Tropical Cyclone Pam hitting Vanuatu. Survivor 9 was held there and I believe that is one of the ones I applied for. Well 95% of the buildings were destroyed on those 65 islands.
********************************
Gotta see the skin doctor today. When you had a malignant melanoma you get to see a dude once a year forever.
I had a mole removed about 25 years ago on my shoulder and halfway through the minor procedure the nurse said "Doctor? Can you look at this?"
TWO days later I had an ice cream scoop of skin taken out and I could literally see my muscle fibers. Well, about the size of a silver dollar. MOHS chemo surgery. I actually got to meet Dr. MOHS although he was pretty old.
I've met two Moh's in my life. Bruce Mohs of the Mohs Seaplane Corporation. I was on a 70 mile bike ride and for some reason we stopped at this farm house (for water??). We started talking to this old guy and before you know it he was taking us back to his barn to look at something (what could possibly go wrong).
He opens the door to the barn and we see some of the most unusual cars I have ever seen.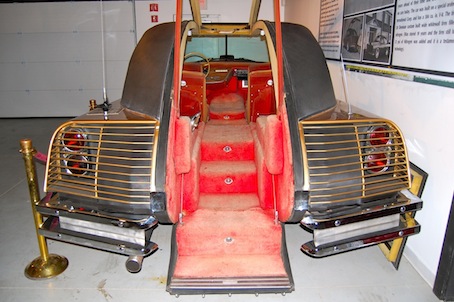 Ostentatienne Opera Sedan
The tires were nitrogen filled.
SafariKar
Then we find out HE MADE THEM!!
Bruce passed away a few weeks ago.
*****************************
Oil got slammed this weekend and is now at $43 a barrel and going down. It is now at a 6 year low.
*****************************
I made a promise I would post this photo of Sam. This was taken on his last day of business in Columbus.
**********************