.
I went to the debate with an open and blank mind (not that hard for me) and gave everybody a chance. I will not say who I'm voting for because this is a spam free blog but I hope she wins. She was not angry, did not have Senators whispering in her ears and never mentioned the all important leaf debacle which as the entire town on edge.
In other news I have been instructed to see if there is any interested in a Public Enemies Co-ed softball team. I THINK there is a rule about having to live in Columbus so if Johnny Depp or Christian Bale want to play - sorry -you will have to go somewhere else. HOWEVER, it would be interesting to see Christian Bale argue with an umpire. I believe we could get Left Hand Louie to fill in for Mr. Bale.
OH - I do NOT want to be the manager.
ALSO - there is a meeting tonight for all interested in Public Enemies stuff this summer - Julies Java House at 5:30ish.
=====================
We all know that Creed in The Office was one of the original members of the Grass Roots. Well that has nothing to do with anything but I thought I would mention it.
This is a post from August 2007 and I dug it up because back then Facebook was just a vague thought and since then I have been in contact with one of the origional members of a long lost band Wonderhorse. So here is our story.
In other news Van Halen is having a reunion tour but the real news is that there has been no word about a

Wonderhorse

reunion tour. You remember

Wonderhorse

. That brilliant band from the early 70's that flamed out after one year because their parents would not let them go out of state?
Yea - I thought you would remember. This AliceCooper/Spooky Tooth/ Skid Row rock fusion band toured southern Wisconsin and made it so big they were able to print calling cards for handing out to perspective talent agencies and close friends.
They were the opening act for a puppet show . . . . no wait - that was the Rutles, nevermind. They were the main act for a Whitewater High School event (or was it Jefferson) and the Fort Atkinson Junior High dance and many more prestigious events.
It all came to a crashing end when they had used up all of the in-state venues and were preparing for an extensive out of state tour to Illinois when their parents decided that this locomotive of talent needed to be reined in before they became TOO famous.
Where are they now? The last I knew I was in Madison

(now Columbus WI)

and our keyboardist is in Fort Atkinson designing buildings, making MUCH less then he would have if the band was able to continue it's meteorite rise to fame.
There are not many photos of this band so if any you find in any in a flea market they are worth their weight!

Being the photographer I am not in the photos.
A few things about the lost photos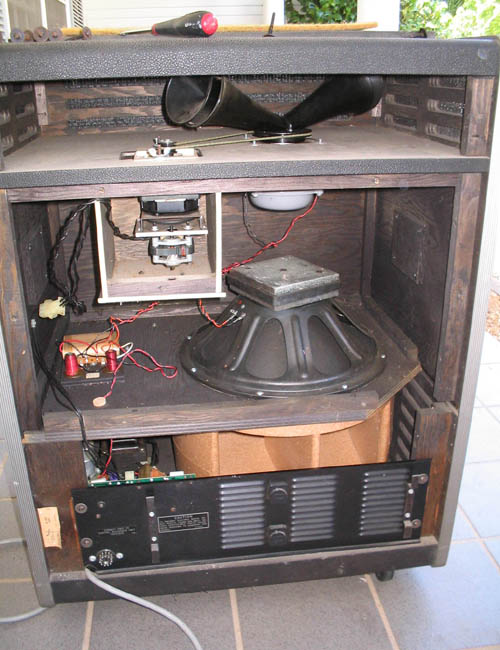 That top one is Rick and I think he is getting shocked or something or maybe that chic behind him is goosing him probebly a groupie (oh yea - we had groupies). His claim to fame was when he would play with his organ on stage (which he called Leslie) . . . .wait - perhaps I should reword that. His organ was always hooked up to Leslie which was a speaker system,

a specially constructed amplifier/loudspeaker used to create special audio effects utilizing the Doppler effect. Named after its inventor, Donald Leslie.

It was sweet
The black cone things on top would twirl around and looked uber cool. His was actually better. (no photographs have been found of Leslie).
Mike our percussionist is seen utilizing timpani that were loaned by the Fort Atkinson High school Orchestra and when I say loaned well, we just sort of took them when we needed them and brought them back before anybody found out. I believe the statute of limitations is up right?
I'll have more Wonderhorse stories once I consult my lawyers.
----------------------
OK - Columbus Fashion Week(CFW) - Perhaps we can tie in CFW with 4th of July and the Columbus Film Festival. I have been watching the comings and goings in New York and their Fashion Week and I keep hearing how with our current economic meltdown things have been scaled back.
I have to agree - what woman would not want to wear this on a cold winter day in Columbus. Perfect for going to the Antique Mall.

The new baby doll look is hot this year.

And us guys will look pretty hot for the ladies in the 4th of July Parade.
Hats are in this year. This is from a new designer, Shitoke.
But in Russia they do things a little differently on the runway.
Not as serious over there. It's HammerTime.

Nuff said.
OH - I'm not in Survivor this year but I know someone who is - well - I know someone that knows someone who is. The friend of my friends cousins girlfriend - we're pretty close.
Erinn

talk at ya tomorrow
Rod