WELL NOW! Let's see. I'm in 385th place in Fantasy Golf (out of 1,147) but need to climb another 271 places to get to the money ($22,940 prize pool).
My NHL Hockey system is ROCKING!! The NBA system broke down a little but am still up and Baseball has started with a bang. FULL IMMERSION SPORTS. Makes for a hectic morning when I have to work for the state (2 weeks in a row). How do you people get things done with a 40 hour a week job!
I mean seriously. I think the whole problem is that when I'm working at home I'm not tied to a chair. I can work for 2 or 3 hours, run to the post office come back drive to Lake Mills, deliver artwork, drive to Sun Prairie order more canvas, stop at the grocery store and so forth.
It's true that you are just as busy when you transition from a cube worker to a free range worker but being free range you can get little chores done at the same time.
---------------------------------------
About 30 years ago I was on a bike ride south of Madison and we came across a farmish place. I can not remember why we stopped but I do remember an old guy bringing us water and then he wanted us to look at something he created. I remember being a little nervous but there were 4 of us and we were in good shape and the dude was like ancient (perhaps 50ish).
What he showed us were the most amazing cars I had ever seen. One opened from the back.
I have always wondered if I dreamed that or what because the cars were so odd and who was this guy.
A few days ago my friend Todd Frey had a photo of a car on facebook and it reminded me of that long ago experience.
OH OH - Im drifting off topic.
Did you know Columbus had a car manufacturing company? The Badger Motorcar Company. Completed cars were stored on the third floor of the Columbus Canning Company*. The slogan was
"a Hill Climber with Power to burn"
Columbus Canning Company* was the largest canning operation in the country at one time.
(The little town with a big history).

WELL - Todd, out of the blue, mentions the Ostentatienne Opera Sedan. OMG - that is the car.
Built by the Mohs Seaplane Corporation, Madison Wisconsin. With 7.50"20" nitrogen filled tires and a International Harvester truck engine. The Ostentatienne could be ordered customized to suit its buyer's wishes; Ming styled oriental rugs, refrigerators and sealed beam taillights were some of the options available. Production was reported to be three to four vehicles per year, only one was ever built (and I saw it).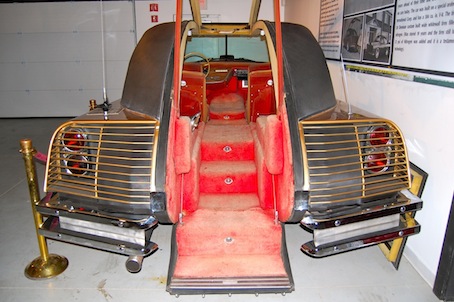 They also made a Safarikar which I remember seeing.
So I have had run in's with two of the Mohs brothers. Bruce Mohs the founder of the Mohs Seaplane Corporation
and Dr. Mohs who invented MOHS chemo surgery that was used on my malignant melanoma some 25 years ago
.
Anyway - I just thought I would mention it.
-----------------------------------------------
DJ and I watched
Life of Pi
which was REALLY REALLY good. Way better then I thought and I had high expectations.
Remember the movie Who Framed Roger Rabbit (1988)? At the time it was the very first REAL movie that combined animation and live action. I did a lot of reading and the guy that did the animation said "just wait, you have not seen anything yet".
The reason I mention this is I believeThe Life of Pi was 25 years in the making. I cannot say UNBELIEVABLE because it was BELIEVABLE!
What got me was that while everyone talks about the animation, it was the story, the spirituality of the movie that moved me. I strongly suggest you watch this on a big screen TV or theater.
http://youtu.be/mZEZ35Fhvuc
---------------------------------------
Question of the day - What the hell is an iota? Like - I'm not budging one iota!
An iota is the ninth and smallest letter of the Greek alphabet, hence when someone says they "don't care one iota," they don't care one teensy weensy little bit.
have a great day and VOTE!!!
Rod